Target Population
Our ministry targets homeless youth in the Haight Street and Golden Gate Park areas of San Francisco. Our primary target is youth between 15 and 25 years of age, although we serve all ages and do not turn anyone away. Our goals are twofold: 1) To evangelize unbelievers to know Jesus Christ and 2) To disciple homeless believers into deeper relationship with the Lord and personal transformation in their lives.
Poverty is a symptom. It is not the root cause of homelessness for most of the people we serve. Childhood abuse, drugs and alcohol addiction are common factors. At a deeper level, strongholds of anger, unforgiveness, bitterness, rejection, and other types of emotional and spiritual wounds plague most of these men and women. Out of these unresolved issues come a myriad of addictions, violent acts, poor choices, and accompanying poverty.
Core Values
Homeless Outreach
Freedom in Christ seeks to meet the basic needs of the homeless through food and clothing, the social needs of the homeless through relationship-building, prayer, and outreach, and the spiritual needs of the homeless through presentation of the gospel of Jesus Christ and ongoing discipleship in relationship with Him and His Word, from which come transformation and deliverance.
Life Transformation for the Homeless Population of San Francisco
The primary purpose of the organization is to bring homeless men and women into a saving relationship with Jesus Christ and to usher them into deliverance from the strongholds that enslave them, robbing them of health, employment, positive relationships, contentment, and joyful living.
Collaboration with Local Church and Ministry Community
The goal of FIC is to unite with other Bible-believing churches and organizations whose goal is to serve the homeless men of women of San Francisco with the ultimate goals of salvation, deliverance, and transformation. Through unity, we can administer all of the gifts of the body of Christ to more fully serve the needs of the homeless.
Prayer
Prayer undergirds all ministry work. "Unless the Lord builds the house, its builders labor in vain. Unless the Lord watches over the city, the watchmen stand guard in vain." Psalm 127:1
Staff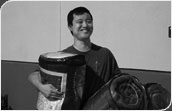 Grant Kim: Pastor
Grant has been involved with the homeless in San Francisco for over ten years. "Soon after graduating from college, I met
Terrence
, who slept next to my office. He became my friend and taught me everything I needed to know about living on the streets." Grant started Freedom In Christ in 2007. Grant received his Master of Divinity degree from Fuller Theological Seminary.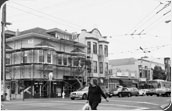 Statement of Faith
Scripture

The Bible is the inspired, infallible, and authoritative written Word of God. 2 Timothy 3:16

The Trinity

There is one true God, eternally existent in three persons: God the Father, God the Son, and God the Holy Spirit. Deuteronomy 6:4, Matthew 28:19

God

We believe that God the Father orders and directs all things according to His own purpose. He created the universe apart from any preexisting materials. He sent Christ into the world to save sinners by His own sovereign choice and out of His love for mankind. Isaiah 40:28, Colossians 1:10-23
Read More